The Pros & Cons of Outsourced Bookkeeping Services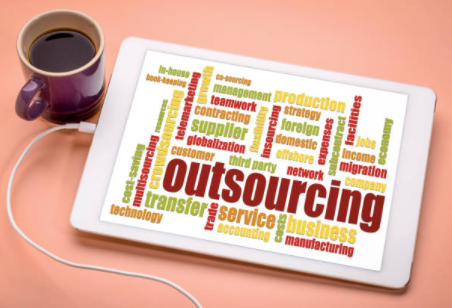 Outsourced bookkeeping, payroll and office administration services are fast becoming a popular solution for small businesses. Large corporations have enjoyed outsourced business services and now smaller businesses are starting to take advantage of these services too.
With remote access and an Australian based bookkeeping team at hand, business owners have access to a team of knowledgeable experts working to help their business run more efficiently, grow faster, and make more money. In addition, local outsourced business and bookkeeping services come with lower risks and significant cost savings versus hiring an internal bookkeeper.
When Should You Outsource?
Often, business owners will manage their bookkeeping needs on their own with a comprehensive bookkeeping checklist to reduce costs. As their business grows and the volume of financial data and requirements increases, bookkeeping becomes a more complex and time consuming part of the business.
Managing the books begins to take more time and effort away from the core business leading to a drop in business performance and in some cases getting the business owner into trouble with the ATO due to compliance issues.
So, is it time to outsource your bookkeeping needs?
Start by asking yourself these important questions:
Are you unsure about the accuracy of your businesses financial data?
Are you unsure if you're keeping proper financial records?
Has tax time become a nightmare?
Are you finding yourself consumed by invoices and business transactions which is negatively impacting your core work?
Are you unsure about the profitability of your business?
Are your BAS lodgements late?
If any of the questions above sound familiar then it's time to consider hiring an expert to support your businesses growth.
The pros and cons of outsourcing
As with any good business decision, it starts with weighing the pros and cons so you can make an informed choice whether outsourced bookkeeping is right for you.
Enables transformation - for example migrating bookkeeping and other key business processes to the cloud while also implementing more streamlined processes. Businesses also use outsourcing to drive transformational change and improve business results.
Minimize risk & building resilience - cost savings, focusing on core business functions, minimizing risk and solving capacity issues are the main reasons to outsource.
Pro #1: Cost Effective
Hiring an outsourced bookkeeping service is more cost effective and less risky than hiring an in-house bookkeeper to handle the books. By outsourcing, you don't have any additional overhead costs that an employee would generate, such as Super, annual leave, health insurance, vacation, sick pay and workers' comp. Also, a single person might not have all the answers to complex/more advanced bookkeeping issues while an outsourced team has a number of experts who support each other and can share knowledge to provide the best solution for your needs.
Con #1: Hidden Costs
As with any paid service, additional costs can become a problem if a task is more complex than you initially anticipated resulting in unforeseen costs. The best way to manage this is by talking to your bookkeeper about this to understand and set expectations around any work.
Pro #2: A Proactive Approach
As a business owner, you didn't go into business to become a trained financial professional who lives in the books. Your focus is on serving your customers and growing your business to secure your desired lifestyle. Hiring an external bookkeeping firm ensures that any red flags are spotted ahead of time including cash flow issues and over expenditure. Having a team of experts care for your financial data gives you peace of mind and the confidence to continue forward knowing you won't run into any unforeseen financial trouble down the road.
Con #2: Less Control
Having an external team of bookkeepers to support you does come with a downside, you can't simply walk into the office next door and get the rundown on how finances are tracking. Instead, you'll have to schedule a call or arrange a meeting which does mean updates aren't instantaneous. Outsourcing your financial data can also feel daunting for a lot of business owners so make sure you do your homework and work with a trusted partner before making a final decision.
Pro #3: Reduced Fraud
Fraud is a concerning aspect for any small to medium sized business owner when they allow a single person to control the books. Small transactions can easily go unnoticed and the books can get manipulated to appear normal for years. It's a mistake to blindly trust employees, even if you have a strong relationship together as it can lead you into a false sense of security that leads to heartache down the road.
Outsourcing your bookkeeping means no single person controls the books and with multiple pairs of eyes monitoring transactions significantly reduces the risk of fraud and any accounting anomalies.
Con #3: Not Local
There are a lot of overseas bookkeeping and business service providers based overseas. The biggest risk is these companies are not always aware of Australia's tax laws, BAS statements, superannuation, GST or payroll requirements leaving you open to harsh penalties. In addition, overseas agencies can often be more challenging to communicate with and explain your financial data in a way that makes sense. It's important to weigh up if outsourcing overseas is the right long term strategy. Alternatively, a more effective and risk free option is to hire an Australian Based Outsourced Team.
Pro #4: Training
Bookkeeping firms are legally obliged to stay up to date with the latest Government regulations and tax laws to ensure proper compliance and best practices. As a business owner, this is important as you want to ensure your books are managed as per the ATO's regulations even when those regulations are updated. Working with an outsourced bookkeeping company gives you that peace of mind.
Key Admin Are Your Dedicated Financial Team
Here at Key Admin Solutions, we've helped small to medium sized businesses gain the peace of mind, efficiency, and actionable financial data they need to succeed.
Contact our friendly team to learn more about how we can help you to save time and money in your business today!