MYOB vs XERO: Which is Best?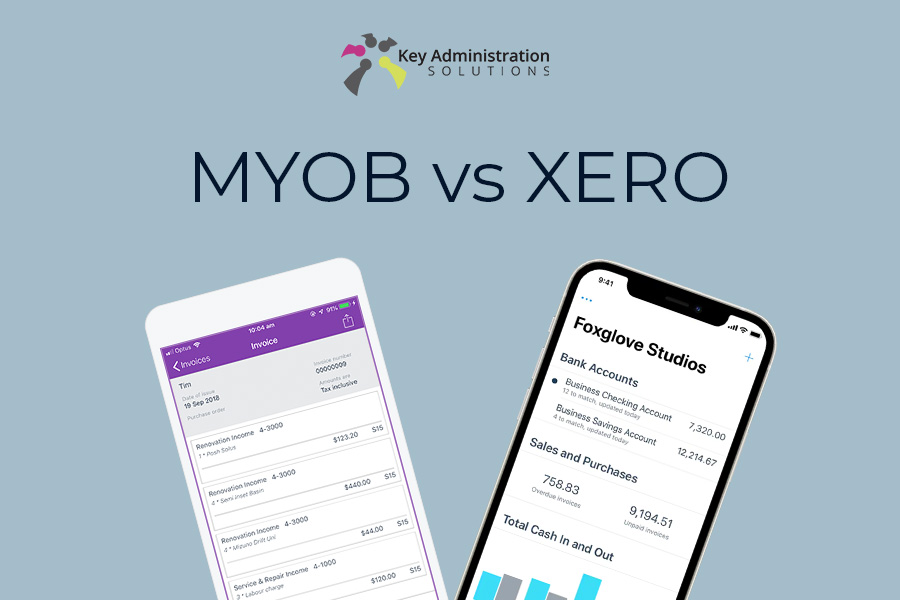 MYOB (Mind Your Own Business) and Xero, are both accounting software packages. They both provide great accounting solutions but which one is best for your business?
While both account software packages offer pros & cons it depends on how your business is set up that will decide which software integration is best for you.
For example, how big is your business? How many employees do you have? Are you managing a great intake of stock, sales, orders, or do you have a service-based business? All of these factors, and more, need to be taken into consideration to establish which accounting software package is the most suitable for your business.
Ultimately it's best to speak with a professional bookkeeper who can help you decide on what accounting package is best for you and your specific business needs, and whether you would do well with XERO bookkeeping services or MYOB bookkeeping.
XERO
Let's start with Xero. This is an easy to use cloud-based accounting solution which works great for small businesses.
Xero is a basic accounting system that creates automation of small business processes, meaning you can get on and do what you do best, and that isn't filing receipts, writing out invoices, and chasing payments.
How Much Does Xero Cost?
There are three plans within Xero. The Starter plan, the Standard, and the Premium 5.
The Starter Plan is really that, a plan if you are just starting out and won't be doing many transactions. Ideal for the sole trader with no employees. This plan can be quite limited as the number of invoices you can produce is restricted to 20 per month, and the number of bills to just five.
The Standard Plan is a better option if you have one or two employees and you see your business expanding in the near future.
The Premium 5 Plan is the one for you if you have between 2 and 5 employees and need more capacity for the payroll, reconciliations, and are maybe dealing with more than one currency.
There are also a multitude of add-ons, which can be added to any of these plans, so really can be tailored to suit your business.
Xero connects to your bank account so matching payments are made automatically. It also corresponds to your Accountant, or Bookkeeper, making the end of year accounts much easier. Xero comes with several ready-to-use charts for cash flow, transactions, and accounts, making it simple to manage your company's finances. There are even expense tracking features built-in.
Quotes are converted into invoices. Filing Tax Returns becomes a breeze. Following up overdue payments is automated. You can keep track of your money - whether it's coming in or going out, in one glance. As there is the Xero Mobile App, this can be done anywhere at any time.
MYOB
MYOB is a more established company than Xero, and has a good track record. Like Xero, MYOB has several tiers to choose from, so you can get the best fit for your business at a price that meets your needs.
How Much Does MYOB Cost?
MYOB is split into two main tiers of Essentials and Accountright. The system is a modular design, so the various applications can be added to create a bespoke model specifically tailored for your specific business needs.
The Essentials and the AccountRight are effective and simple to use accounting systems, similar to Xero, and are great for small to medium size businesses. The Essentials would be good for a start-up business with less than 5 employees. The AccountRight can manage up to 30 employees.
From this information alone, you can see we are already into the larger companies than what Xero is suitable for.
Each of the Essentials and AccountRight plans have stepped versions, with each step providing slightly more advanced tools than the previous.
Once a business is getting up to the 30 employees range, they should be looking at more than just an accounting solution. This is where the Enterprise Resource Planning solution comes in, (the ERP). Larger companies need to go with an ERP solution to help manage day-to-day business activities in addition to just the accounting.
ERP systems connect a variety of company operations and allow data to move between them. ERP solutions avoid data duplication and ensure data integrity by gathering and collaborating an organisation's shared transactional data from numerous sources. This is an appropriate solution for companies with multiple departments and a requirement to provide multifaceted reports.
ERP systems are essential for the management of these businesses to be able to operate as smoothly and efficiently as they do.
The MYOB Exo and Advanced plans are completely integrated ERP and HRM (Human Resource Management) systems.
The MYOB Advanced is the only cloud-based option, so provides more flexibility than the alternatives. The Advanced allows the user to have visibility across their entire business.
MYOB Advanced is the top of the line option for MYOB. The Advanced brings real-time business insights with flow between the functions. It can build reports as required. Essentially this is the system required if you are looking to future-proof your operation.
MYOB Advanced has two Suites, MYOB Advanced Business and MYOB Advanced People.
MYOB Advanced Business is the ERP management system that provides a customised, measurable, cloud-based platform.
MYOB Advanced People is the payroll and HR suite. It features a comprehensive payroll system that caters to the many employee requirements.
Additionally, there are expandable editions to the Advanced suites, not to forget the Mobile App MYOB Advanced OnTheGo.
Final Thoughts
Both MYOB and Xero are excellent choices and they're both fantastic choices for managing your accounts. Choosing which is best comes down to your unique needs as a business owner.
For example, if inventory management is important for you then MYOB's kits and auto-build items could add a lot of benefits to your business. On the other hand, if you require additional features then Xero offers greater app add-ons.
Ultimately it's best to speak with a professional bookkeeper who can help you decide on what accounting package is best for you or speak to our small business consultants to advise the right software integration for you.